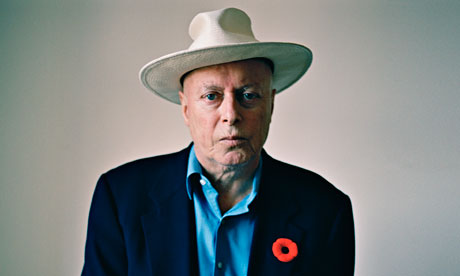 The latest chapter in the on-going preemptive eulogy of the great freethinker, essayist and contrarian (and unwitting hero of this very blog), Christopher Hitchens, is a video cut together by r/atheism frequenter gonzoblair.  Dozens of folks from all over the world toast the life and work of a singular intellectual, and drink to his honor a bit of his favorite liquor, Johnny Walker Black. (Accept no substitute.)
The diversity of the group is remarkable (although they almost all speak in Hitch's tongue of English) and their sentiments are sincere.  That a man could attract such positive wishes mainly for pointing out the shortcomings of figures like Mother Theresa, Princess Diana, Pope John Paul II and the Hebrew God is a testament to how honesty is the king of virtues, and that truthfulness with one's self is paramount.  I do wish that more mention was made of his journalistic pursuits, as my first encounter with his writing was in the inspirational Letters to a Young Contrarian.  That book made me unashamed to assert myself when I was sure I was unpopularly right, and to check myself when I had unpopular doubt.  I've never looked back.
Perhaps it is a feature of being such an outspoken atheist that people take the trouble to tell you how much they care before you die.  Just think about how nice this world would be if we made such an effort to everyone we loved.
Here's to you, Hitch.  Cheers.